Our Writers

Get our ROCKERS MONTHLY FIX newsletter with offbeat links, worthy causes and users personal picks!
"I Am A Goddamn Delight!" Veteran of radio since the 80s, child of the 70s. Interviewer, DJ, Podcaster, Host. Gimme Metal Radio Show "Lifer" / WFMU "Diane's Kamikaze Fun Machine" "Home is a black leather jacket fitting sweetly to my brain." -JJ BURNEL
Some Of The Most Important Records To Me:
The Fall - Live At The Witch Trials
Aerosmith - Rocks
Deep Purple - Machine Head
Stranglers - No More Heroes
D.O.A. - Hardcore '81
Thin Lizzy - Jailbreak
Voivod - War & Pain
Alice Cooper - Love It To Death
Black Sabbath - Sabotage
David Bowie - Diamond Dogs
Black Flag - My War
Motorhead - Overkill
Wire - Pink Flag
Mastodon - Leviathan
Devo - Duty Now For The Future
Metallica - Kill 'Em All
ElDopa - 1332
Queen - Sheer Heart Attack
Articles by Diane "Lifer" Farris
My stepfather had some really primitive equipment when I was a kid, and I used to love just tinkering with his equipment, I found it really exciting.
Since the early days of the pandemic, Bandcamp has waived the fees they charge bands for hosting their music/products/sites on the first Friday of each month. I've personally purchased at least one item each month to do my part to support this great initiative. Here is a resource list from some of our writers, poke […]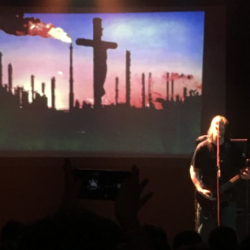 I've got a podcast that mainly consist of interviews done on the air on my WFMU radio show. You can listen here! This transcript is part of the current podcast episode. I spoke with Justin Broadrick of Godflesh, Jesu, Final, etc., etc. We spoke in 2010, at the beginning of the return of Godflesh cycle […]
If you have ever noted that there is a different Challenge every day on this site, you might wonder what for. I started the Rockers For Life Group/game on Facebook primarily to initiate conversations about music. It's just what I'm most comfortable doing. Having music conversations goes way back into my family history. My dad […]
The groom wore a blue satin and velvet outfit, the drummer white, the bassist sported yellow and orange, and the confounded looking percussionist was awash in red.
On the Rockers For Life! Facebook group as well as on this site, Daily Music Challenges are posted. There is a Rockers For Life YouTube Channel, and monthly I peruse the answers and will make a playlist of the most interesting or varied ones! The channel, by the way is only playlists at this point. […]
Today is the day! Since the pandemic affected us, the folks at Bandcamp have started something called Bandcamp Friday – I'm not sure it's an official name, but the first Friday of every month, Bandcamp waives the fees it charges bands. So it's a perfect time to make that purchase you've been contemplating to help […]
"Flippers changed it from a game of luck to a game of skill."
In '97 I went back to school to be an optometrist -I sold all my gear because I thought that I needed to grow up and by getting rid of my gear it would help me get a professional job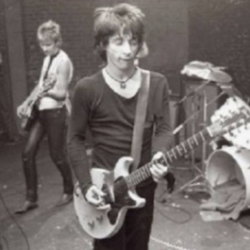 The jovial and talented Walter Lure passed away recently. His departure marks the end of the existence of a certain type of rock 'n' roller. Walter was fun, clever and a man that had to have determination and be relaxed at the same time to be able to do what he did. His demeanor was […]