Our Writers

Get our ROCKERS MONTHLY FIX newsletter with offbeat links, worthy causes and users personal picks!
The Slugger is the host of Slugger's Supersonic Radio Show. He was a DJ on WRSU 88.7 FM Rutgers University New Brunswick NJ. He is a songwriter, singer and guitar player for the bands Pleased Youth, Bad Karma and Mr Payday.
Favorite Rock and Roll records in no particular order
The Ramones self titled (Mono) The Damned - Machine Gun Etiquette Queen - Sheer Heart Attack Sweet - Desolation Boulevard Little Richard - 20 Greatest Hits Specialty Records Velvet Underground - White Light White Heat Chuck Berry - The Great 28 Johnny Thunders - So Alone NY Dolls Self Titled Pagans - Buried Alive Big Boys - Lullabies Make The Brain Grow X - Under The Black Sun Alice Cooper - Love It To Death Blue Oyster Cult - Agents Of Fortune Black Flag - The First Four Years OFF! Self Titled MC5 - Back In The USA Link Wray - Rumble! The Best Of Link Wray Slade - Slade In Flames Sparks - Kimono My House Iggy And The Stooges - Raw Power Germs - GI
Articles by The Slugger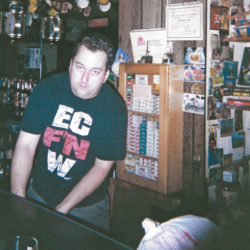 The guys obviously hadn't showered since they left Vancouver and they had been on the road for about a month.
Grant Hart loved the jukebox even saying out loud "wow you have Wazmo Nariz in here"