So You Want To Book A Rock 'n' Roll Club?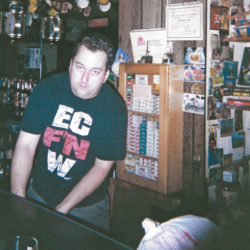 It sounds like a dream job booking a rock club. It seemed like it would be when I took the job. What you don't realize is all the pressure is on you to make sure every night you book is profitable. Everyone's livelihood depends on you. Your co-workers. Your Boss. Want to book the bands you like? Not if they don't draw. I have to say though, I had some great times. I started booking the Court Tavern in New Brunswick in 1997.
   The first show I booked was the Flipside RAFR record release show. I kind of handed the show from the previous booker. It was a packed line up. Ff, Turbo AC's, The Wretched Ones, The Phantoms from New Orleans, The Pleasure Fuckers from Spain, my band Bad Karma and Nashville Pussy. I knew Blaine from Nashville Pussy from his old band Nine Pound Hammer. We played a gig with them at the Pipeline in Newark and besides Emilio, the owner of the club, the bands were the only ones there. We didn't let it ruin our fun. They came on and were awesome. With Emilio working the sound and lights, they blazed through a string of covers like Radar Love. They even had us come up on stage and sing Kiss; Rock and Roll all Night, with them. We hung with them afterwards out front and led them to the ramp back to NYC. They came back and played the Court and we hung out again, smoking weed up in the office. They were even better at this point. When I saw Blaine's new band was on this bill I was curious to check them out. His new band was quite different. Blaine was the front man and had his wife, Ruyter, on lead guitar. He also had a 6'4″ Amazonian bass player named Corey. When they came on they were a ball of energy. I stood in the back and was checking them out. Towards the end of their set, Corey went to the back of her amp and pulled out a bottle of Jack Daniels. I figured it was a prop bottle but then she lit a stick. Now I'm wondering what she's doing. She clears the people out from the front of the stage and blows a wall of fire from one side of the room to the other. When I say wall I mean a 10′ x 20′ wall of fire. I almost went into cardiac arrest. Here it is the first night I'm responsible for and the place is going to go up in flames. This was years before the Great White debacle but it didn't take much to think this could be a disaster. Fortunately nothing bad happened and I went on to book them 3 more times. The fire never seemed as crazy again as she perfected it over time. Except the one time a guy with a mohawk decided not to move when she motioned for the crowd to part in the middle. He stood there and she blew the fire right at him, catching his dyed mohawk in flames. He stood there for 5 seconds pumping his arms in the air like YEAH until his friends started smacking him in the head, putting out the fire.
As exciting as this is, the day to day routine was not. You have to go through mountains of press kits every week. Back then it was mostly cassettes and a few CD's. This was before the electronic press kits that I would have to sift through later. Out of 30 kits you might find one good band. Me and my partner Mick would go through these and after a while we devised a way to battling the boredom. Up in the office there was a baseball bat. Mind you, we were already a few cocktails in by the time we started. Once we found an offending tape, we would take turns pitching and hitting the tapes out the window. The tree that was out the window was covered in tape from the cassettes, which looked pretty cool. We also started using CD's as coasters but it became a little touchy when a band member got their drink on their CD. The one thing we wanted to do but never worked out was skeet shooting CD's. Mick was buddies with Anthony, who booked the Pipeline, and we were going to get together for this but it never came to fruition. Once in a while we would find a diamond in the rough. One such band was a weird band from Edison NJ named Vacume. They sounded like a cross between Captain Beefheart and Pere Ubu. They also had a lead singer that dressed in a Rabbit's costume and a guitar player that wore a KFC bucket on his head. I'm pretty sure this was before that Buckethead character was around. Their tagline was "We're Vacume and we suck". It was really funny watching the guy in the full length Rabbit costume walk around the bar freaking people out. I really regret not saving some of these press kits as their press photo was awesome.
There were times when I could work out getting great bands. I got a hookup from my friend Keith Roth to book the Dictators. I would deal directly with Andy Shernoff. I hated being on the hook for a large guarantee if there were weather issues or just a bad turnout, so I would give a lower guarantee vs a large percentage of the door. This way the band would get more depending on the draw. Andy was not difficult but he was pretty much a stickler for numbers. As far as I was concerned, I didn't blame him. They were playing a small club and they deserved to be in a larger venue. I always looked at it as I was lucky to book them and would put up with more from a band that was really one of the original punk rock bands. Every time they played they did well and I know that they enjoyed playing there. I talked to Handsome Dick years later at Manitoba's and he said he loved the intimacy of the stage there and the club.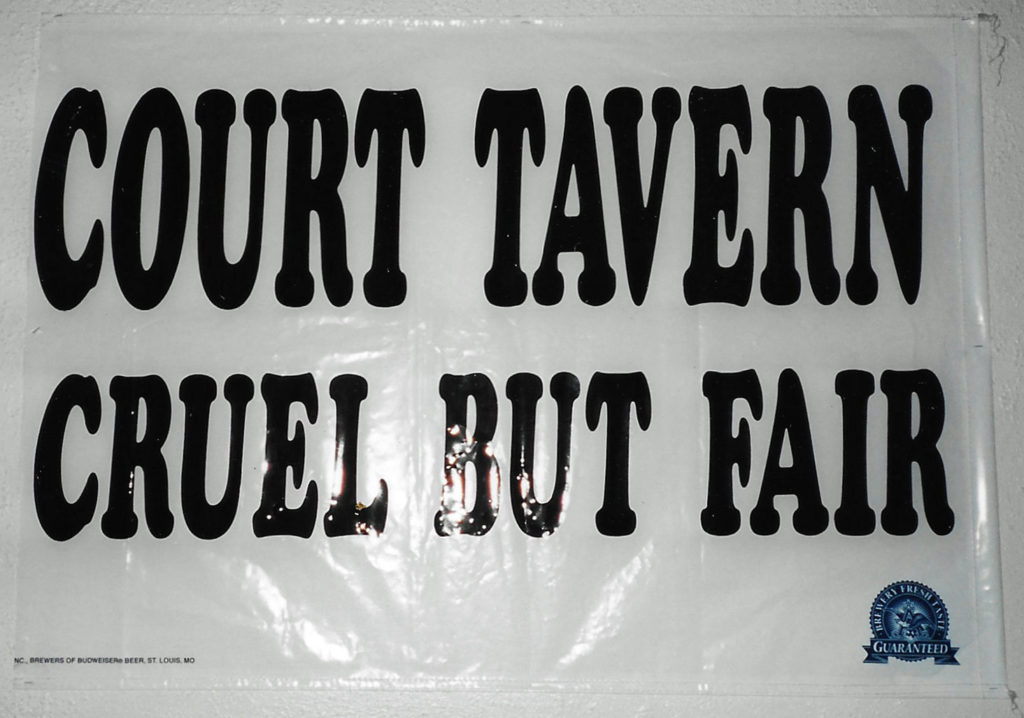 There were also the issues that came with booking touring bands. We booked The Hanson Brothers. This was a hockey based punk band that featured the members of the Vancouver based band, No Means No. We got posters and talked up the show. The day of the show we got a call that they had an issue getting across the border from Canada. The band they were bringing with them, Maow (Neko Case's first band), got in a fight with the border agents and they wouldn't let any of them in the country. So now we had a packed house and no band. Two days later the Hansons, somehow getting across the border by themselves, showed up at the bar and apologized for the whole debacle. They were super nice guys and comped us tickets for their show in Philly that night. They also gave us all their drink tickets, which pissed off the mobbed up looking club owner.
   I also booked a band that everyone loved at the time, The Uppercrust. They dressed like 18th century aristocratic noblemen in Powdered wigs, singing about their wealth and sounding like AC/DC.  I actually reached out to them when I went with all my friends to see them at Brownies in NYC. I walked up to their lead singer, Nat, AKA Lord Bendover, as he was carrying an arm full of beers back to their dressing room. He said he was interested in a disinterested way and said to get in touch with them. There were a lot of sensational rumors that floated around about him. He was the real wealthy one in the band. He was an heir to the Pulitzer fortune. He killed someone and got away with it because he was rich. So going to him was a little intimidating. Later I found out at this show, backstage, he berated another member of the band, Lord Rockingham, because he was leaving the band to become a speechwriter for Bill Clinton. Supposedly it got so ugly that the other members thought he was going to beat the shit out of him. Or so another rumor goes. After getting a contact number I ended up dealing with their road manager at the time, who was easier to work with. I booked them about 3 times and they always did good for the bar. Not that there weren't issues. Nat didn't really project his voice and there were problems with the sound, as they were really loud. I also remember them demanding salad to go with their baked ziti I made them. That wasn't too bad considering I got a band that I wanted to play the club.     
   And speaking of The Uppercrust, they once comped me tickets to see them at Coney Island High. They had a band open for them called the Real McKenzies, a Scottish centric band from, again, Vancouver BC. They were great and kind of stole the show. I really dug them and I started looking to get them at the Court. I looked at their shows on their website and realized they played Europe and Canada and not the US. I dropped them a line and said I really liked them and to get a hold of me if they ever do a US tour. 2 years later I got an email from an agent saying they were doing a tour with a band from LA, the Briefs, and would I be interested. I set up a show and worked out all the particulars. The day of the show they pulled up in their van. I got a text saying they're here and they stink, literally. The guys obviously hadn't showered since they left Vancouver and they had been on the road for about a month. The owner's wife, Eileen, let them go into the kitchen and they made Meatloaf and potatoes with some, I'm pretty sure, old Ground beef that was laying around. Meanwhile 2 of the members, the guitar player, Bone and the Bagpipe player, McNasty, went to my boss Bob and asked if they could get a bottle of cheap vodka. He obliged and they went back to the van and came back 45 minutes looking for another. 45 minutes after that they came back again. Later on the 2 came in and sat at the bar. As you can tell, by this time they were completely hammered. Bone lost his balance and started to fall off his stool, futilely grabbing an ashtray to stop the momentum. McNasty and the bartender, Mark, just started laughing at him. Eventually they retreated to the van by the time I showed up for my bartending shift. I got filled in about the events of the day. The band was just happy to find a place that was welcoming after the last week of dates in the south that weren't. As I settled in for my shift, the singer of the band sidled up to the bar. "Me name is McKenzie. Can I get a beer and a pop?" I grabbed him a beer and poured us both a shot of Jäger. He was older than the rest of the band, in his late 50's, and we bonded over my Damned, Machine Gun Etiquette shirt as he was an old school Punk guy.. He went on his way and I didn't see him again until later downstairs. I went down to check them out and poured a few drinks for our guests. McKenzie was ordering up what he called his "Pirate" drink, which consisted of dark rum, lime juice and something else neither I or Mark Leino, the other bartender on duty that night, can remember. Mark was trying to get him to drink the 160 proof Jamaican rum that we called fish rum because of the funky smell but he wasn't biting. They went on and were once again great. The only carry over from the first time I saw them was the other guitar player Kurt. The band had obviously been well worked out on the road and were super tight. The 2 guys that killed off the 3 quarts of vodka were sobered up and were on the money. The only bad part of the night for the bagpipe player, McNasty, was when he jumped up and hit his head on one of those spur shaped sprinkler heads on the stage. That really must've hurt but he soldiered through. Afterwards we all hung out and the band started getting their drink on. McKenzie was still hitting that pirate drink but showed no signs it was effecting him. The drummer came up and got in on the the party, ordering a couple of shots. The other guitar player, Kurt, came up after and said not to give the drummer any booze. Too late I said. He just shook his head and said he's going to be hard to handle the rest of the night. As the partying dragged on the boys got looser and they started asking if anyone had any coke. We were all like nah because that was the last thing these guys needed. Someone told them there was a party at a local guy Parker's house. They bid their farewells after a while and we heard later they descended on Parker's house like a pirate ship running through the house and terrorizing the occupants on their quest for coke.   
TO BE CONTINUED