From Darkroom to Green Room
How My Teenage Photo Assisting Gig Led Me To Shakin' Street's "Magic Tour"
When I was in my early twenties I spent a few years photo-assisting for photographer Jonathan Postal, the staff photographer at Guitar World Magazine. This was roughly 1982 or so. Before that, Jonathan also happened to have been the lead singer of a band called The Readymades. The Readymades never really made the BIG big time, but in 1978-79 they were one of the most popular new wave bands in San Francisco, seemingly poised for national stardom. In their hometown of San Francisco they got all of the big opening slots, Roxy Music, Blondie, Joan Jett, etc. A still new Judas Priest even opened for them. They were regulars at the Fillmore, The Old Waldorf, The Mabuhay Gardens, etc. This all caught the attention of producer Sandy Pearlman, who agreed to produce some tracks for them in an attempt to get them a major label record deal. Through his association with Pearlman, Jonathan wound up shooting photos of some of the other bands he was affiliated with, The Dictators, The Blue Oyster Cult, and….Shakin' Street. This was actually how I first became aware of Shakin' Street. Jonathan had given me a poster of a shot he did of them for
Columbia Records (below). Jonathan had an amazing photographic style, pulp fiction-ish black and white images, almost reminiscent of Helmut Newton. He'd often hand color the prints, as he did with the one displayed here, for which he also did the graphic design work.
I loved the image, and so rips, wrinkles and all, I framed it and hung it in my apartment for years.
It turned out that the lead guitarist of Shakin' Street was Ross Friedman (Ross The Boss), of The Dictators (that's Ross top left in the photo by the way, right behind lead singer Fabienne Shine). When Sandy Pearlman signed on to produce Shakin' Street he installed Ross into the band, as the original French lead guitarist, Armik Tigrane, was having substance abuse issues and needed to be replaced. The Dictators were on hiatus at the time, Ross was available, and the rest as they say is history. I loved The Dictators and Ross' playing, so that made me curious to hear the album, which has since become a favorite of mine. Guitarist and main songwriter Elewy (Eric Levi) possessed a certain quirkiness in his approach rock-n-roll, and it's one of the things that makes Shakin' Street so interesting. What seems like a straight up hard rock band on the surface actually has a lot of interesting eccentricities buried in the arrangements.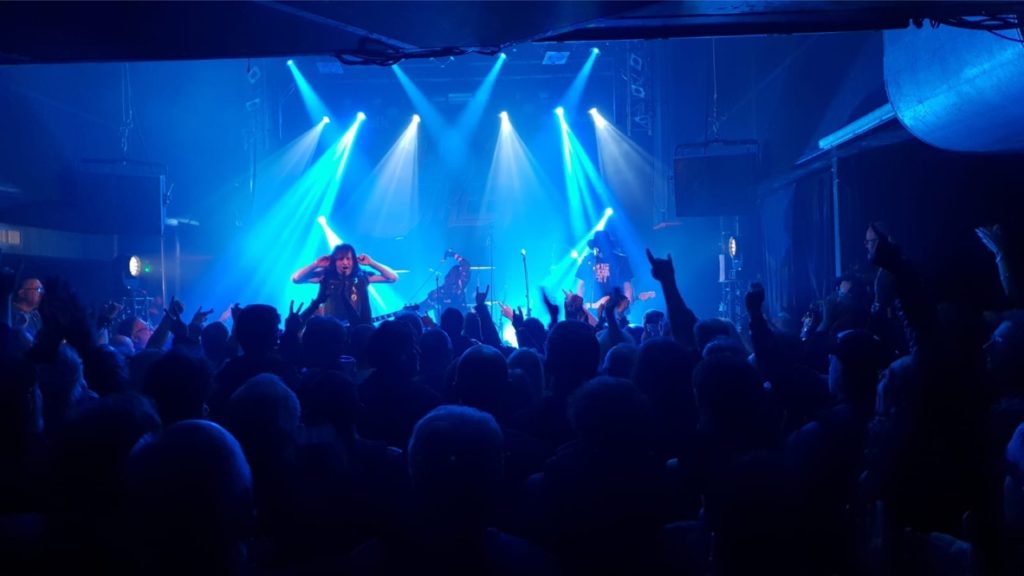 By the way, for those who are unfamiliar, Shakin' Street is one of a very small handful of French rock bands to crack the American (and international) market at all. Much to the chagrin of the French, since the end of WWII, English has grown more and more to become the international language, superseding French as the language of business and diplomacy, and in order for international musical artists to break into markets outside of their own countries they need to perform their material in English, hence the success of bands like The Scorpions (Germany), Golden Earring (The Netherlands), The Soundtrack Of Our Lives (Sweden), Loudness (Japan), HIM (Finland), Bjork (Iceland), etc., none of whom would have become international stars had they sung in their native tongues. The list is actually quite long, except in France, where performing in English isn't as well thought of. As a result, the only French rock bands that released albums in the US were Shakin' Street, Telephone (who did sing in French but always included a single or two in English on each album), and Trust, who metal fans might remember for their hit "Antisocial". So, Shakin' Street is in fact a much lionized member of quite an exclusive club. Their first album "Vampire Rock", was released on CBS-France, but there was no American release. Despite that, it brought the band enough attention that they caught the ear of producer Sandy Pearlman (Blue Oyster Cult, The Dictators, The Clash, The Dream Syndicate, etc.), and when Blue Oyster Cult was performing in Paris, he had a chance to meet Fabienne Shine, who had come to the show. She told him of her lead guitar player troubles, and he suggested bringing in Ross The Boss, after which he signed on to produce the second, eponymous album. According to Ross, the first track that Pearlman played to spark his interest was the title track from the first album, "Vampire Rock"; Ross said of Fabienne "the second I heard that voice, I knew I wanted to do it!". Pearlman's involvement led to Shakin' Street's signing to the US Columbia Records, and once the album came out in 1979 they toured extensively, opening for Black Sabbath, Blue Oyster Cult, Aerosmith, and many others. The single from the album, "Solid As A Rock", was a big hit in France, but sadly failed to really take off in the US, so after all of that hard work Shakin' Street found itself in limbo, back in Paris. Ross hung in there for awhile (even learned a bit of French he tells me!), but eventually moved on to forming Manowar, solidifying his place in metal history.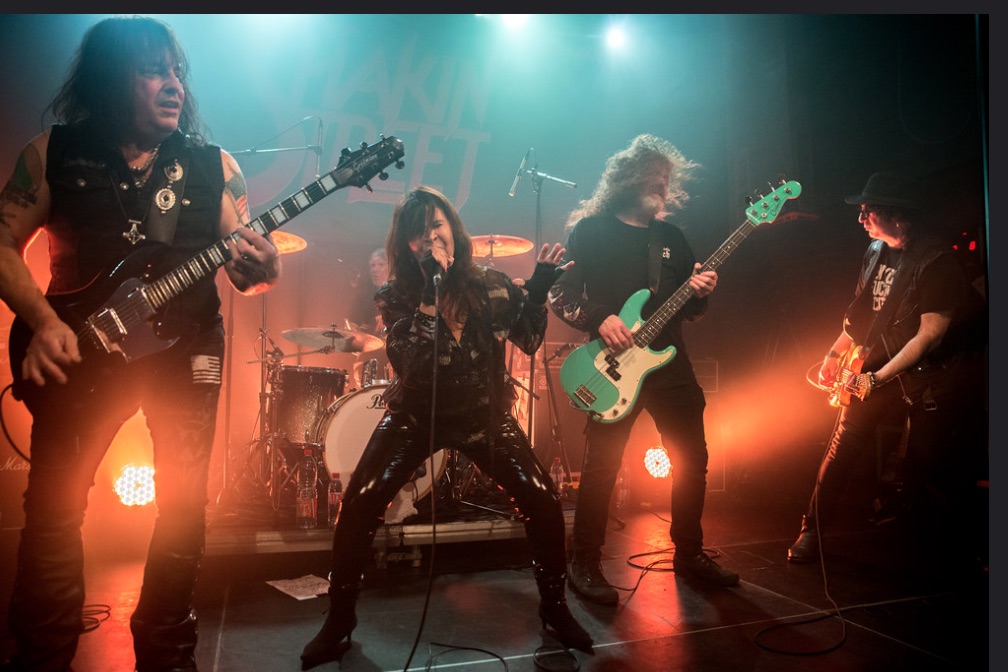 In my travels around the New York rock scene I chanced to befriend Andy Shernoff, songwriter, bassist and original force behind The Dictators. Around '99 when the Dictators reformed I wound up going on the road doing sound for them. This is how I originally came to know Ross The Boss and their drummer JP "Thunderbolt" Patterson. At the time I was also producing singer/songwriter Patti Rothberg, and playing guitar in her touring band. Patti was in need of a new drummer at the time, and J.P. offered his services. J.P. and I wound up playing in Patti's band together for about six years or so, and J.P. played drums on tracks from both Patti's second and third albums, "Candelabra Cadabra", and "Double Standards" respectively, both of which I produced. Small world getting smaller.
A few years back, surfing on Facebook one day, I happened upon Fabienne Shine's page. So I sent her a message, introducing myself. I told her that I was a big fan of Shakin' Street, all the way back to my college photo-assisting days, that we had some mutual friends in The Dictators, and that I'd love to produce something new for her. I sent her some of my tracks to listen to and she was impressed enough with them that she gave me her number in LA and told me to get in touch the next time I was out there. And so, the next time I was out for the NAMM show I rang her up. I drove out to her place in the Hollywood Hills, acoustic guitar in tow, and I played her a few of my instrumental ideas for songs. The chemistry between us clicked right away, and so she picked several that she liked, began to develop some lyrical ideas for them, and with that we began the process of writing the tunes that became "Don't Tell Me How To Shake It", Fabienne's third solo album. In addition to the production, I played the guitars and bass on the album and enlisted J.P. to add his drum stylings.
The album was released in France towards the end of 2018 to many great reviews, and Fabienne decided that she wanted to tour to support it. But "Shakin Street" was still a more well known brand than Fabienne as a solo artist, so it was decided that it would be more advantageous to tour as Shakin' Street. Fabienne reached out to Ross and he agreed to sign on, and so along with myself, J.P. Patterson, and bassist Dean Rispler on board (in essence three-fifths of The Dictators) the revamped Shakin' Street was born. The set list consisted of the best of the classic Shakin' Street material combined with key tracks from the new solo album I'd produced. We did a whirlwind tour of France, fifteen shows in seventeen days. Sponsored by Rock & Folk (kind of a French Mojo or Rolling Stone), every show was sold out; it was a smashing success.
So, once again, I found myself recording and touring with a band whose records I owned when I was a kid, onstage in front of thousands of people, with the inimitable Fabienne Shine, three fifths of The Dictators, trading guitar licks with one of the all-time greats, Ross The Boss Friedman! This life in rock-n-roll, I wouldn't have traded it for anything.
What's next? Perhaps a new Shakin' Street album???
Some Videos for you: Here's the original band – "Solid As A Rock":

Obviously Ross plays a lot of leads, but here's nice clip of "No Time To Lose" from Paris that features both of us.

The Original "Vampire Rock"